PTFE Gaskets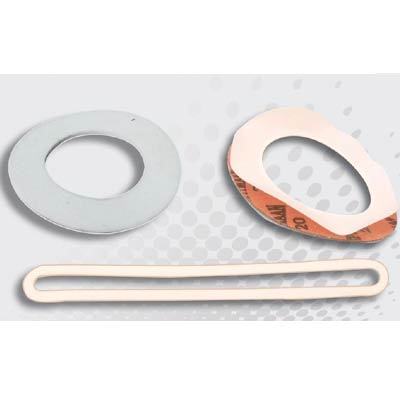 PTFE Gaskets
Price And Quantity
Product Specifications
Gaskets

For Industrial Use
Product Description
Owing to our in-depth expertise in this domain, we are engaged in offering an extensive range of PTFE Gaskets. Manufactured using high grade gasket material under the supervision of our experienced professionals. Withstand aggressive chemical environments (including highly oxidizing environments) than standard non-asbestos gasket material, the temperature, pressure and mechanical performance of these gaskets are inferior to standard non-asbestos gasket materials. Metal inserted and expanded PTFE are able to operate at higher pressures. These PTFE Gaskets are offered at industry leading price to the clients.
Features:
Durability

Flexibility

Structural weakness

Superior finish

Chemical resistance
Technical Specifications:
Material
| | Max T (F) | Max P (psi) | Creep Rel'in | Applications/Features |
| --- | --- | --- | --- | --- |
| Pure PTFE | 450 | 800 | 35-55 | Excellent chemical resistance |
| Filled PTFE | 450 | 1200 | Nov-40 | Excellent chemical resistance |
| Filled PTFE-Metal inserted | 450 | 2500 | 20 | Excellent chemical resistance 316 SS perforated core |
| Expanded PTFE | 20 to 170 | 150 | 1/32 to 2 | Oil/gasoline. Excellent weather resistance |
PTFE is principally used as a gasket material because of it's capability to remain unaffected by the majority of chemicals used in industry. It is also classified, in most cases, as a food grade material, making it acceptable to both medical and food production industries. There are three basic types of PTFE gasket materials. Virgin PTFE, filled PTFE and expanded PTFE.
Virgin PTFE is by the least expensive of the three varieties, and is used in most general applications. Filled PTFE is a gasket material with a virgin PTFE base to which a substance is added during manufacture to improve the sealing characteristics of PTFE. This 'filler' usually is glass or graphite particles although ceramics has sometimes been used. The resulting gasket material is strong, yet highly compressible with very good, though not universal, chemical resistance.
Expanded PTFE is virgin PTFE to which a stress resistance has been added by means of molecular rearrangement during manufacture. This process ensures that the molecular chains from which the PTFE is constructed, do not arrange themselves in to set patterns. This means that expanded PTFE possesses no structural weakness (grain) and expands and contracts equally in all directions. Because no additives are required, expanded PTFE also possesses the unique chemical resistance of virgin PTFE